5☆ Grande Real Santa Eulalia Resort & Spa, Albufeira, Algarve
Bed and Breakfast - 03 Nights from €195
---
To book call Blue Sea Holidays on 01 5268757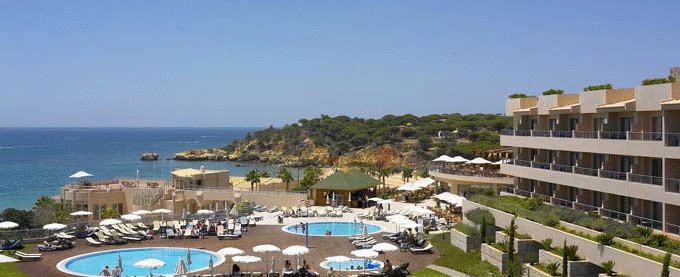 Highlights
Close to the beach
Amazing elegant decor
Excellent children's club
Luxurious thalasso spa
Award winning hotel
Hotel Overview
Located in Albufeira, Algarve, the 5-star Grande Real Santa Eulalia Resort & Hotel Spa features direct access to the Santa Eulália Beach, 4 outdoor swimming pools plus 3 for children and a Thalassotherapy Spa with specialised staff.
Facilities
There are 3 restaurants on site which offer a variety of options to guests from Portuguese to International cuisine. In the evening guests may relax at one of the on-site bars. The Real Spa Therapy includes 17 treatment rooms, a pool with Thalasso Circuit, massage rooms, relaxation areas, a sauna, a cocoon, a hamman, a gym and other wellness facilities. The Realito Kids Club offers music, games and entertainment for children of various ages. During the summer guests can unwind at the Le Club disco.
Rooms
Each room is equipped with a flat screen TV, WiFi, safety deposit box, and a private bathroom.
Departure Details
January:
from €195pp
February:
from €209pp
March: from €219pp
April: from €295pp
May: from €305pp
June: from €389pp
July: from €439pp
August: from €399pp
September: from €359pp
October: from €339pp
To check availability or to book call
Blue Sea Holidays on 01 5268757

Tour operator's description.
CAR 0741
Offer last updated 13th December 2019 at 17:11
Departures from Dublin.
---