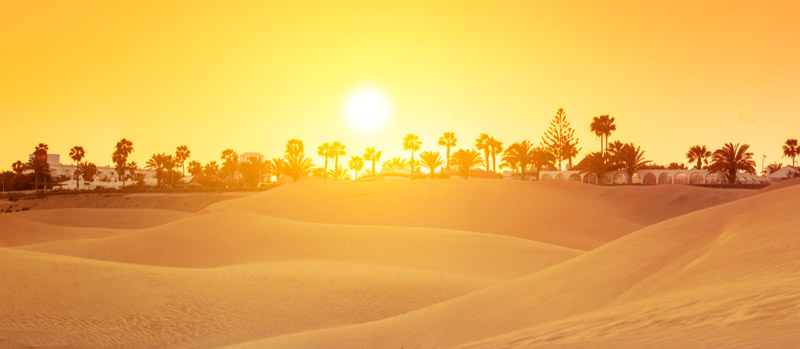 Santa Brigida is an affluent resort situated in the northeastern part of Gran Canaria. The area's main town is Santa Brigida itself but the municipality also constitutes other, smaller resorts including La Atalaya, Pino Santo Alto and Los Lentiscos. The main town is centred around its picturesque church, small historical quarter and lively weekend markets. This is a great resort to visit if you value a traditional and charming experience abroad.
Low Cost Holidays to Santa Brigida

Low-cost holidays to Santa Brigida are highly recommended and the region can be reached from most airports in the UK. There are direct flights to the main airport of Las Palmas and from there, Santa Brigida is about a 20-minute drive. Make sure you check the Cheekytrip comparison site to compare low cost holidays to Santa Brigida from your local airport. Direct flights to Gran Canaria tend to be just under 4 hours. This makes it a middle-range length trip but this wonderful resort certainly makes the trip worthwhile.

Santa Brigida is at its most lively during the summer period that runs from Spring until Autumn but never gets too busy as it isn't necessarily designed for tourism. Temperatures tend to reach the high 20s throughout the summer months. Prices are usually a little bit cheaper outside of these months from Autumn to Spring even though temperatures remain mild all-year-round. Therefore it really is a case of you deciding when you want to go as this is a fantastic destination every month of the year!

One of the best things to do in Santa Brigida is to visit the lively weekend market that it has. Here you will find the region's best local produce including fruit, veg, wines, cheeses, flowers and much, much more! If you are travelling with kids, there is also a play park right next to the market so you don't have to drag your little ones through with you if you don't want. Another awesome attraction in this town is its microbrewery. You can find it as part of the Restaurante Paraiso, just behind the market car park, and you will find some delicious beers from blonde lager to dark ale.

Due to its relatively large size compared to other resorts on the island, Santa Brigida has a fairly impressive range of accommodation options to choose from. There are some fancy hotels in the region as well as homely villas and quieter bed & breakfasts. The dining scene is also phenomenal and a couple of restaurants in this resort truly capture the beauty of Canarian culture: Casa del Vino which has an exquisite wine list and Mallow restaurant with its incredible paella and churros.

If you fancy a low-cost holiday to Santa Brigida in Gran Canaria, we can certainly help. Cheekytrip is a price comparison site with holiday offers from over three dozen travel companies. Since they are all competing for your business, prices tend to be very competitive. To find the best deal, simply enter your dates, destination and point of departure into our search engine and within a matter of minutes, we'll find you the perfect Santa Brigida holiday. As offers and prices change daily, it's best not to delay so go ahead and book now!